• The flood and the search for Atlantis
What has Atlantis to do with ancient Egypt and has there really been a Deluge?
• The secrets of the rolls from the Dead Sea
The rolls from the Dead Sea in the early Christianity contain secrets about Judaism, which just now will be revealed.


• The Holy Grail, hoard or holy myth?
What does the Holy Grail, which Jesus Christ used during the Last Supper, look like and where did it go?
• The Ark of Noah
What is that strange form of the Arrarat mountain in Turkey? Could it be the place where the Ark of Noah broke down on?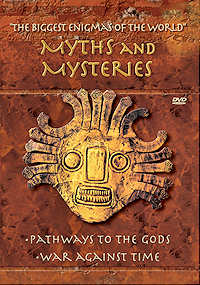 • Pathways to the Gods
What do the yards long lines on the Peruvian plateau mean? Could they be the paths to the Gods?
• War against Time
Astronomy, the secret of the Inca's? Which knowledge did the old Inca's have? What did they know about astronomy that we not (yet) know?


• The Secret of the Pyramids
The more we know about it, the more enigmas the Pyramids of Egypt have. Who have built them and was there civilization before the ancient Egypts?
• The Lamb of God
Who stole a part of the famous panel from the Cathedral of Ghent? Would there be any hidden indications about the find-spot of the Holy Grail?


• The Myth of Osiris
What is the story behind Giza's Great Pyramids? And what is the infuence of the Egypt ancient Gods?
• The Long Road to Compostela
What is the real reason of millions of pelgrims travel after nine centuries to Santiago de Compostella?
The tomb of Apostel Jacob?


• The Ark of the Covenant
Where are the Ten Commandments? Where is the Ark of the Covenant, the Holy box in which Mozes took the Ten Commandments to the Promised Land?
• The Turin Shroud
Is the Shroud of Turin really the shroud of Christ after his crucifxion? Or is this a masterly falsifcation from the 14th century?